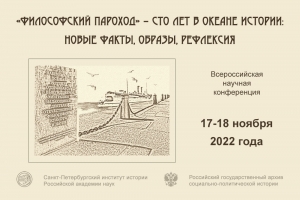 The "Philosophers' Steamboat" is one of the controversial and discussive issues for the history of Russia. The events denoted by this phrase are a kind of symbol of the dramatic split of the unified culture of Russia into the intellectual and cultural space of the Russian Diaspora and the Soviet Russia. Largely because the circumstances associated with the expulsion of a large group of intelligentsia from Soviet Russia in the autumn of 1922, even 100 years later, attract close attention of not only specialists, but also everyone who is interested in the history of Russian culture and science.
Addressing this event today is an opportunity to return to historical sources, to comprehend the place of Russian social and philosophical thought in the world socio-humanitarian tradition, to trace successive lines and perspectives.
On the occasion of the 100th anniversary of the "Philosophical Steamboats", the St. Petersburg Institute of History of the Russian Academy of Sciences and the Russian State Archive of Socio-Political History are holding the All-Russian Interdisciplinary Scientific Conference "Philosophical Steamboat – One Hundred Years in the Ocean of History: New Facts, Images, Reflection".
The conference will be held on November 17-18, 2022 at St. Petersburg Institute of History of the Russian Academy of Sciences in full-time and remote format.
Following the results of the conference, it is planned to publish a collection of reports.